Alrighty! 2017 is done, and the numbers are in:
In general I'm very happy with these numbers. I was totally stoked to get over 3000 miles on my bike - mostly I credit the good weather, especially the crazy warm & dry fall we had last year. So that's 591 miles more than I rode in 2016. Yay!!
The car numbers... well, while 668 miles is pretty minimal, it is 130.2 miles more than I drove in 2016. I think I can safely blame that on my many trips to various home improvement stores with all of my remodeling projects. So, while I'd love for my driving miles to go down every year - I think as long as I stay under 1000 miles per year, I'm happy.
So as I'm writing this, I'm
listening to a podcast
by climate scientist Kevin Anderson. He argues that in order to stave off catastrophic climate change, we will need massive changes - both technologically and societally. He thinks that when it comes to reducing personal emissions, the key thing is to do it publicly. In other words, the value of taking steps to lower one's carbon footprint is not so much the tiny amount of carbon emissions that one person can save, rather it's serving as an example to one's peers - because it's only through collective action that we'll solve this problem.
So in that spirit, I figured I'd blather a bit about my general philosophy when it comes to transportation. I want to be clear that my point here is not to criticize anyone whose choices are different from my own. We all have different realities and priorities. I'm simply trying to show you what works for me. And if I'm being perfectly honest, my motivation for staying out of my car has very little to do with trying to reduce my carbon footprint, and everything to do with trying to improve my quality of life.
Commuting
The average American spends over 100 hours per year commuting
. Good Lord! And
there are over 3 million Americans who's daily commute is over 50 miles each direction
! Can you imagine? Seriously, the mere idea of having to dedicate that much of my life just getting to and from a job sorta makes me want to stick an ice pick in my temple.
I wrote
a post detailing many of my feelings about commuting
a while back, so I won't bother to repeat it all, but suffice it to say, I am a firm believer that it is well worth the effort to arrange your life so that you have the smallest possible commute. Commuting is a non-issue for me these days since what work I do, I do from home. But even before I quit my job, my commute was only 5 miles. That wasn't an accident. When I bought my house, one of the things that was very important to me was that it be relatively close to where I worked.
Now, I'd like to claim that this decision was an altruistic one made out of concern for the environment, but the truth is that I just plain hate being stuck behind the wheel of a car.
Shopping
I try to shop as close to home as possible. I am lucky. Even though my house only gets a
walkability score
of 55, I have the following resources all under a mile from my doorstep: 2 grocery stores, 1 laundromat, 1 post office, 1 dollar store, 1 convenience store, 1 veterinarian, 1 bakery, 2 liquor stores, 3 gas stations, about a dozen bars and restaurants, and a bunch of other things I've never visited like clothing boutiques and pawn shops. If I expand that radius to about 3 miles, those resources expand dramatically.
So the vast majority of my shopping chores can be accomplished very close to home. And once again, while I'd like to say that the decision to patronize the stores in my immediate neighborhood is done out of altruistic concern for the environment, the truth is a lot more like enlightened self interest.
The thing is, I really LIKE having two grocery stores a few blocks from home, and I want them to stay in business. So while it's sometimes tempting to hop in the car and drive a few miles to a bigger, more modern store that might have a slightly bigger selection, ultimately, I'd rather patronize the ones in my immediate neighborhood, even if it means I can't get some of the schmancy treats I'd like to have. Plus, when I do make a trip to a different store to get something special... it's just that:
special
.
There are, of course, some things that can't be purchased close to home, and for this I try to either group my purchases so I can make say one trip to the bike store rather than many. Failing that, I order online. Now I know there are people who claim online shopping is horrible for the environment, but I think the devil's in the details on that one. On the one hand, I can have something delivered... on a truck... which will be winding its way through the neighborhood making a bunch of other deliveries anyhow or, I can spend an hour in my car driving across town to get the same item... well, I think that's a toss up at best in terms of which is worse.
Travel and Entertainment
I once read that back in the 19th century, the vast majority of people lived their entire lives within about 100 miles from where they were born. That's pretty unfathomable by today's standards, but the idea of living one's whole life in a relatively small geographic area really resonated with me. It makes me think of my grandmother, who, though she was definitely a 20th century gal, lived her entire life in what, by today's standards, would be considered a pretty small area.
.
Grandma was born in southern Colorado, grew up in a mining town in the mountains, followed various husbands (she had 3 of them) to Denver, and several towns in both northern Colorado and southern Wyoming. Finally she came back to Denver where she lived the rest of her life. While I'm quite sure there were small vacations throughout her life that I never heard about, the big one was when she was in her 70s. My dad sent her and her best friend on a Caribbean cruise - and I never saw anybody so happy and excited about anything in my entire life. She literally danced around the Christmas tree hooting and howling when Dad gave her the tickets that year. It was just what I think a vacation like that really should be - a BIG, special deal.
Now, I'm not in any way suggesting that people should try to live like it's the 19th century, or even necessarily like my grandmother did. But I do find the whole idea of staying relatively put in a geographic sense to be wonderfully grounding. My house is only about 3 miles from the one I grew up in, and the older I get, the more I appreciate having a real sense of place in my life.
So here's a little secret - I haven't been on a plane since 1993. Come to think of it, that was also the last time I made it outside of the state of Colorado! And you know what - I don't feel like I'm missing one tiny little thing.
Now, I'm not knocking travel - I did plenty of it in my younger days. I've traveled all across the US, been to New Zealand, Hawaii, Mexico, and through numerous countries in Europe & Scandinavia. But here's the thing, when it comes right down to it, a place is just a place. It's not that I don't have an appreciation for different cultures, but the thing is, when you visit a place as a tourist, you seldom get a chance to experience much about the culture you are visiting.
And while there are certainly days in the middle of winter when I think it would be wonderful to be laying on a beach in Hawaii, the reality is that in order to get to that beach, I would first have to find someone to take care of my house & cats, deal with traffic, crowds and airport hassles, then climb inside of a tin can with wings and deal with hours and hours of motion sickness and the probably migraine that would follow. And once I got there, every meal would be sort of like a dance with death as I struggled to communicate my many food allergies to some cook who may or may not "get it."
So once again, I'm not being altruistic here, it's more like I've crafted a life that I have no need or desire to "get away from." And, that being the case, not having to deal with the hassles of travel is a monumental relief.
Now, CatMan and I do have some friends down in Manitou Springs - which is a lovely little town on the edge of the mountains outside of Colorado Springs, so we make the 150 mile round trip about once or twice per year. CatMan drives on those trips so it isn't reflected in my car mileage.
Plus, I think that my biking habit really fills the role of getting out and about for me.
For some reason, there is something infinitely more special about riding your bike to a beautiful place, than simply getting in a car and driving there.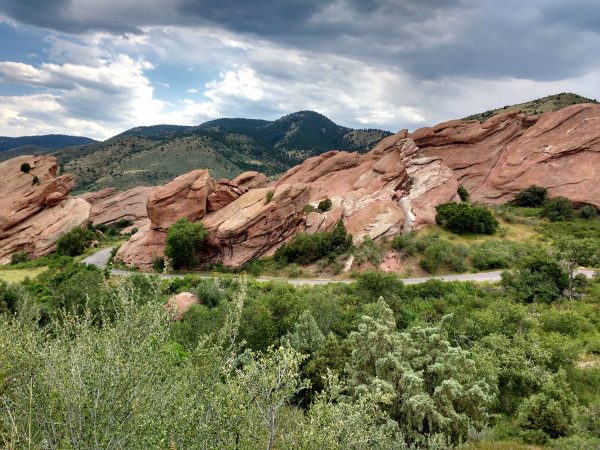 Red Rocks Park - Photo taken on a bike ride last summer
Anyhooos.... those are my thoughts about driving, cars and travel. I'd love to hear what you think. Do you drive a lot? Does anybody out there hate it as much as I do?