Well folks, my carpet beetle battle continues, and so does the "epic" purge. (Thanks to
Fiona
, for that description, it's perfect.)
And you know what, my attitude about it all is shifting. All along I've been trying to see this as an
opportunity
, but still, I have to admit that I was feeling a bit put upon by the entire process.
The initial thing I purged was the old recliner, and honestly it pained me a bit to do it. Somehow I just kept seeing kitties of old lounging in, on, under and around it, and letting go gave me a serious pang.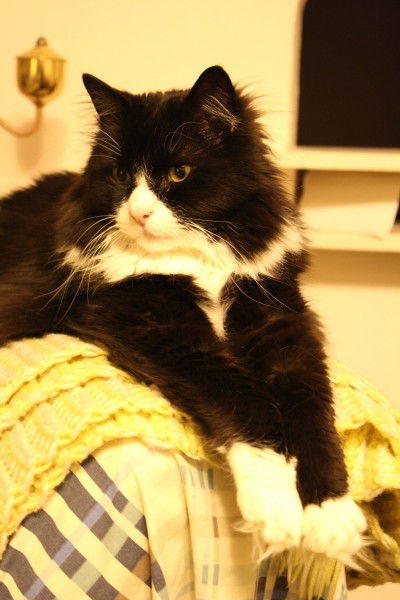 Sputnik posing on the back of the old recliner-
Still one of my favorite photos of him.
However, the deeper I go into this whole purge, the easier it's getting. In fact, I'm almost finding myself looking forward to getting rid of things.
My latest purge was the fabric and the half-finished projects that went along with it. There were half finished rag rugs, half finished quilts, and numerous other projects languishing in the land of good intentions. And the thing I've come to realize is, they weren't just taking up physical space, they were also occupying a significant amount of emotional space.
I mean, I had it all neatly packed away in the basement, but still, every time I'd go down there I'd get a little pang of "you're not good enough."
On some level I know it's really stupid to let something like that make you feel inadequate, but there was just always this little nagging voice telling me "If you were any good, you'd have finished that project by now."
So I was in the basement surrounded by piles and piles of fabric and unfinished projects, when I looked over and caught a glimpse of my sewing machine. Suddenly, an involuntary utterance escaped my lips, "I hate that thing!"
Honestly, sewing and I have just never really gotten along. I can still remember Mrs. Atkinson, my jr. high school home economics teacher, hovering over me like some sort of vulture, telling me all the ways I was doing it wrong. And try as I might, I've never been able to craft a relationship with any sewing machine that was not combative. I love the IDEA of sewing and craft projects, and I love being able to create something from nothing, but the actual
doing
of it I find to be tedious, frustrating and decidedly NOT enjoyable.
So why continue to torture myself? I mean, it's not like we live in a world where it's difficult to acquire textile goods. And there are plenty of activities that I
do
enjoy, and never feel like I have time or space for.
Anyhow, after all of that raced through my head in about 2 seconds, another involuntary utterance appeared, "Free yourself!"
There is nothing mandatory about craft projects. I don't need to continue to put myself through this. I can just let it all go and make room for the things I actually do enjoy.
What a revelation!
So I washed and sanitized all the fabric (at least the stuff that was washable - tiny cut up quilt pieces don't fare well in the wash I fear.) And I found someone on Freecycle who is delighted to have it all. And I get to have another chunk of my life back!
Next up: all of those books that I "should" read one of these days. As noble of a pursuit as I think reading is, I really just hate it. And if I ever decide that I do want to read a particular thing, I don't think I'll have any trouble getting my hands on a copy. I can't wait to make them all go away!!
I think the big lesson for me here is that I just need to stop trying so hard. I'm fine just the way I am, and there's just no reason to keep pushing myself to be someone
better
. What a wonderful revelation to have on Independence Day! Thank you, carpet beetles! I am eternally grateful.
Here's wishing everyone a very happy 4th of July!