Spring is on the way!!!
I know, I know, it doesn't really feel like it yet, but really truly it is.
We got about 10 inches of snow on Monday, and I had to shovel the driveway because I had jury duty on Tuesday. I thought about taking the bus, but the idea of standing outside in sub-freezing weather for who knows how long waiting for a bus that may or may not be on schedule sounded um... less than appealing. So I drove, which meant that I shoveled.
BTW, in case you're curious, I did survive my brush with civic duty, and ended up spending the entire morning on Tuesday just waiting in the jury room - they never called my number. What a way to spend Mardi Gras though - cooped up with several hundred other grumpy people hoping against hope that our numbers wouldn't be called. Laissez les bon temps rouler, y'all... (she says with a thick southern twang and a hefty dose of irony.)
But I digress... My point was, that as I was shoveling, I noticed something distinctly different from my previous encounters with the white stuff this year. This was no light fluffy winter snow. This was the thick, wet, heavy, stick-to-the-shovel variety - and it's a sure harbinger that spring is on the way!!!
There will be plenty more snow to come... like, for example, the foot that's supposed to fall this weekend, but it's starting to feel like spring snow, and the spring part just makes it sooo much easier to take!
As if to prove my point, the sun came out and melted off enough of it that CatMan and I were able to get out for a nice (if a bit soggy) bike ride today!
The whole time we were riding I was just captivated by the river. Now, all of our rides take us along the South Platte for at least 5 miles or so, but today the river just felt different. It was full and flowing, and it was the first time in months that I didn't see any ice on the water. And all around was the trickling sound of melting snow as the little drops of water made their way back to join their companions.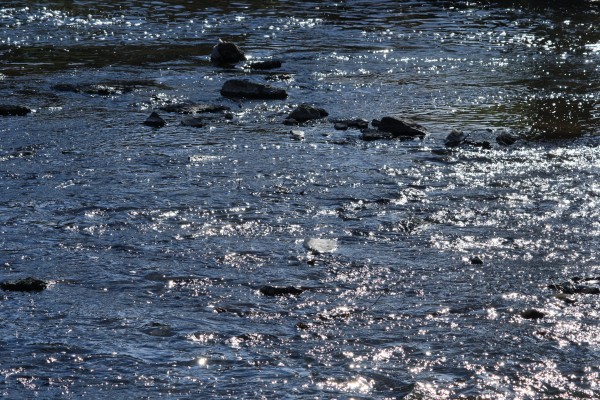 Perhaps this is overly sentimental of me, but I just love rivers. I love the whole metaphor. Somehow, seeing all those little drops of water joining together and starting their long journey back to the ocean reminds me of the oneness of life.
As I rode along my head was filled with all sorts of river songs, so I figured maybe I'd give you a little taste of my internal soundtrack.
This first one is a Bill Staines song, and was a staple at just about every folkie sing-along that I attended in my many years running the music school. Somehow the "real" version doesn't quite fill me up the way that a room full of people harmonizing to it does. But the chorus is quite catchy.
That led me to another favorite by Tish Hinojosa. Tish is a wonderful "Tex Mex" singer songwriter from Austin. The first time I heard her was in the early 1990's when we booked her as an opening act for... Bill Staines (above). She completely stole the show, and this song embedded itself firmly into my psyche:
That, of course, led me to one of my all time favorite songs ever by Chuck Pyle (because... the way I first heard of Chuck was that Tish recorded one of his songs.) Anyhow, the tag line of this song goes "You can't push the river, the mighty river's just gonna flow." Don't know if any of you are familiar with the work of Fritz Perls and Gestalt therapy, but "Don't push the river, it will flow by itself" is sort of a catch phrase used in those schools.
The basic gist is that when it comes to personal awareness, you can't make things happen, you just have to let them happen. Anyhow, it's a meaningful concept for me, and combine that with the incomparable musical stylings of Chuck Pyle (who calls himself the "Zen Cowboy") and you have a recipe for a wonderful song:
And finally... for those of you in the upper midwest and northeast (and probably Canada too) who aren't quite feelin' it in terms of spring yet. I thought you might enjoy this little ditty by Pat Donohue. Pat is an amazing fingerstyle guitarist who used to live in Denver before he moved back to his hometown in Minnesota. You may have heard him on the Prairie Home Companion radio show. I totally love his ironic sense of humor and this is a fun twist on the traditional Mississippi Delta blues tune.
Anyhow, that was the soundtrack of my day. I doubt anyone will listen to all of them, but it sure made me happy humming these songs as I rode by the beautiful river.
So tell me, what are your favorite river songs?