Well, I have some good news and some bad news.
But the good news is really, really good, and the bad news is more like just a bummer.
So the good news is... Smoky is cured! He's been given a clean bill of health and the vet says he's now completely normal!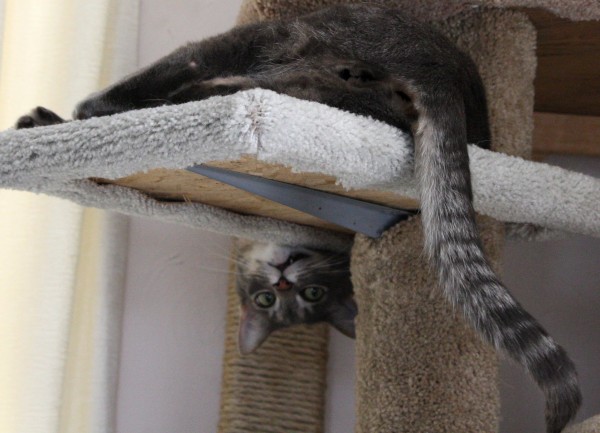 See... I is normal now!
There was great rejoicing!
So now to the bad news...
Don't know if any of you will remember this or not, but a few months ago
when I got my mortgage paid off
, I celebrated by letting myself buy a few things that I really, REALLY wanted. One of them was a SmartWool base layer top that I bought to replace one my mother had given me that was the wrong size.
When I purchased it, I did so with the intent of wearing it for winter bike rides, but very quickly it became my most favoritist piece of clothing. Seriously, the thing totally rocks!
It's warm, but never too warm, and it isn't at all scratchy like most wool is, and I was even beginning to convince myself that it was worth the ridiculous sum of money that I spent on it. I think it was like $85-$90 which is vastly more than I've ever spent on an article of clothing in my entire life.
I've worn it WAY more than any human ought to wear any single piece of clothing, I just love it so much...
OK... so... if you have a wonderful piece of clothing that you love to pieces... and it's your most favoritist thing ever... well... you probably shouldn't wear it when you're trying to cram a struggling fe-lion into a box to take him to the vet.
Long story short, my wonderful, beautiful, beloved SmartWool shirt now has a lovely hole in the front of it where Smoky got me with one of his back claws.
Yes... My life is covered in cat fur... why do you ask?
I guess he wasn't entirely happy about having to go to the vet.
Oh well... it's only a thing after all. I'm gonna see if I can find some thread that is a pretty close match and maybe I can darn it so it won't be too noticeable. And it will still be warm and fuzzy and comfy and wonderful... but it's still a major bummer. I guess this is why I don't generally spend much money on things like clothes.
It reminds me of a cartoon that a friend of mine at work used to keep over her desk. I searched the interwebs high and low for it, but alas, no luck. So I'll do my best to re-create it for you.
It went something like this:
Releasing Your Attachment to Material Things.
Option A: Spend years practicing meditation and slowly, over time, your attachment to material things will begin to diminish.
Option B: Get a Puppy
Oh well... anybody got any advice on darning my SmartWool top?